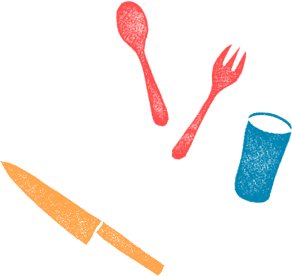 Tsubame City, a city of craftspersonship and thriving industry, is also rich in nature and history.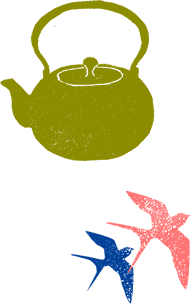 Tsubame City located in the center of Niigata Prefecture is blessed with nature, has a long history and many sightseeing attractions.
About Tsubame City
Topography and Climate
Tsubame City, Niigata Prefecture, is located in the center of the Echigo Plain along the Shinano River, sandwiched between Niigata City and Nagaoka City. Most of the area is flatland with Mt. Kugami (313 meters) and its rich nature. The area is also blessed with abundant water such as the Shinano River, Okozu Flood-Control Channel, Nakanokuchi River and Nishi River. People imagine much snow in Niigata Prefecture, but Tsubame City has less snow, averaging only 26 days a year with over 10 centimeters of snow.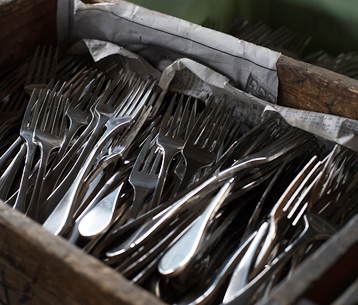 Population and Industry
The population is about 81,000 as of September 2017. The ratio of business establishments to population ranks fifth in Niigata Prefecture. Tsubame City is known as an industrial area nationwide and is a major production area of tableware and metal houseware in Japan. The tableware production share of the domestic market is over 95 percent. At the 90th anniversary of the Nobel laureate ceremony dinner in 1991, Tsubame cutlery was adopted, and part of the monument near the main stadium of the 2012 London Olympics was also produced by Tsubame City companies. The technology of Tsubame, a town of craftspersonship, is globally known and respected.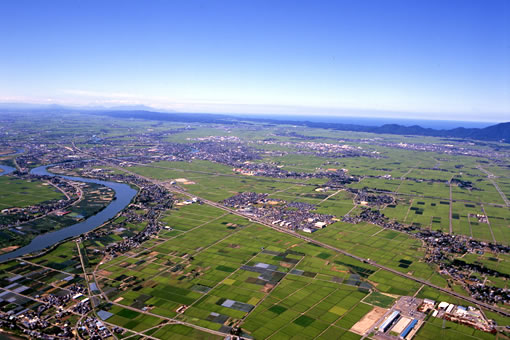 Directions
With the Sanjo-Tsubame Exit on the Tohoku Expressway and Tsubame-Sanjo Station on the Joetsu Bullet Train Line, reaching Tsubame City from Tokyo is very easy.
History of Tsubame
The history of Tsubame is also the history of the waterfront including the Shinano River. The Shinano, the longest river in Japan, flooding after heavy rains is said to have damaged the Echigo Plain every 3 years. Tsubame City inhabitants and others who suffered from the floods started petitioning the government to excavate the Okozu Flood-Control Channel in 1716. After repeatedly petitioning for 200 years, the construction was finally approved. Full-scale construction started in 1909. After 22 years of construction and a cumulative total of 10 million people working on the project, the Okozu Flood-Control Channel of about 10 kilometers was completed. By manipulating the movable weir and the overfall weir, sufficient water is secured for the main stream, protecting the downstream area during floods, draining the water to the Sea of Japan. This great flood-control channel stopped flood damage and turned the deeply drained rice paddies into a dry rich granary. This contributed to Tsubame City and the development of Niigata.
Industry
Tsubame area was constantly at close quarters with natural disasters. Because rice cultivation was extremely difficult due to floods, people had to find work other than farming to make a living in this harsh natural environment. Japanese nail production started as extra work for farmers during the Edo period. Triggered by the introduction of nail production technology, metal industries started and developed into local industries.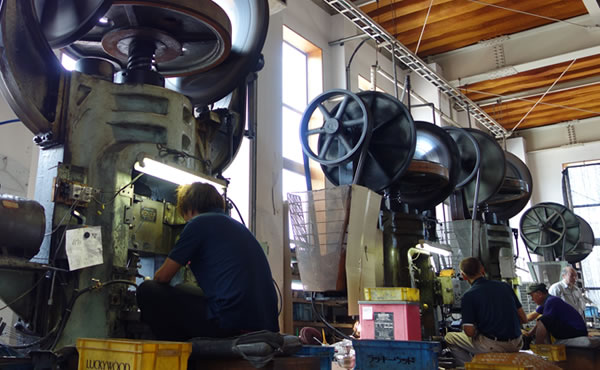 Demand for Japanese nails increased during the Edo period because of the great Ansei Earthquake in 1855 and the following giant fires in Edo (present Tokyo). Eighty percent of Tsubame industry was nail production then. Gradually, metal processing technology in copperware made by hammering and forming copper plates was established as well as pipes for smoking and brush-and-ink cases.
Thanks to the reputation of metal processing technology that continued for a long time, an order for high-grade tableware was placed from Tokyo in 1911. This was the start of the tableware industry. Then, mass orders came from Russia around World War I, which triggered mass production. Over time, power machinery was increasingly introduced, mass production started, and the industry developed. However, during World War II, the distribution route abroad narrowed, and production was completely banned as the war worsened. After the war, the production picked up after receiving orders from the Occupation Army.
Overcoming many domestic and international difficulties and changes over the course of about 400 years of nail production, craftspeople handed down metal processing technology from generation to generation. Now we handle metal houseware, work on precision machining of stainless steel and titanium, utilize new materials such as magnesium, and enhance processing technologies of molds, sheet metal, polishing and plating. We continue to create appealing products closely tied to modern life and tools indispensable for our daily lives.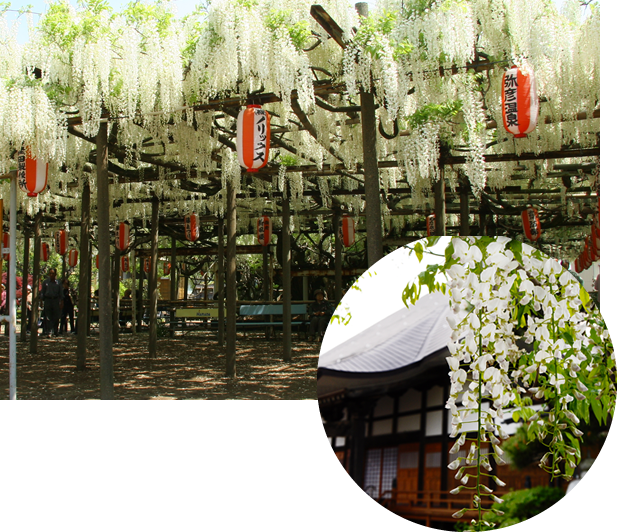 Nature
White wisteria in Hachioji
A large white wisteria tree over 350 years old is in the compound of Anryo-ji Temple in Hachioji, Tsubame City. Numerous branches spread in all directions from one tree; countless elegant white flowers hang from the tree between the beginning and the middle of May every year. It was designated as a cultural asset of Niigata Prefecture in 1958.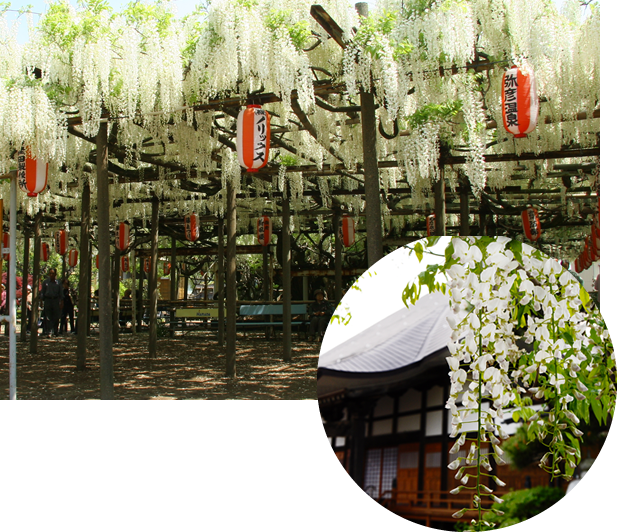 Location of a grand white wisteria tree
Anryo-ji Temple, 962 Hachioji, Tsubame City, Niigata Prefecture
Cherry trees
A cherry blossom lane runs along the bank of the Okozu Flood-Control Channel where cherry trees bloom gloriously for about 10 kilometers. The trees are lit up every year in April during the Tsubame Cherry Blossom Festival. Also, there are cherry trees over 100 years old at JR Bunsui Station. You can enjoy cherry blossom viewing at night.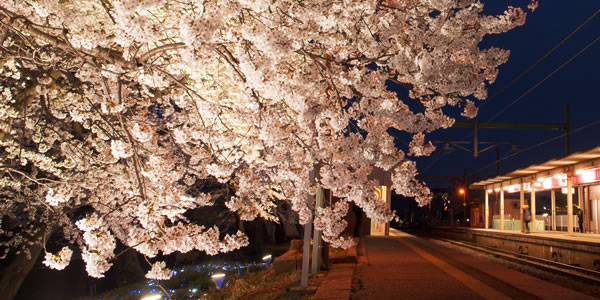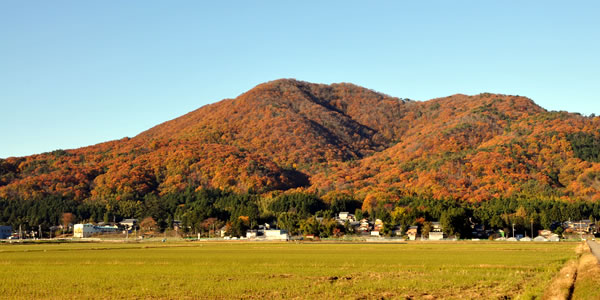 Mt. Kugami
Mt. Kugami is 313 meters high. You can see the Echigo Plain and Okozu Flood-Control Channel from the top. The beech grove on this mountain spreads about 180 meters behind Kokujo-ji Temple. Highly appreciated as a rare beech grove remaining in the lowlands, the grove was designated as a natural treasure of Niigata Prefecture in 1993. It is also loved as a place related to Ryokan. Lanes for visiting historic sites and climbing to the top are prepared to enjoy strolling in each season.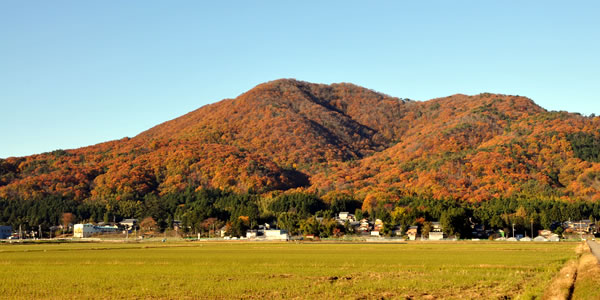 Well-known people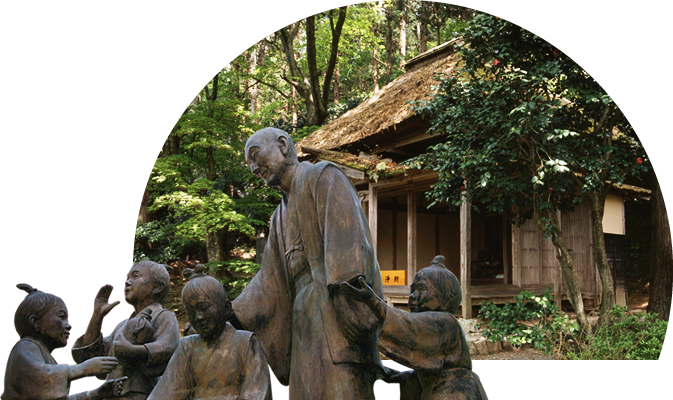 Ryokan (1758-1831) was a Zen priest who was talented as a poet and calligrapher. After a pilgrimage across Japan, he spent about 20 years at Gogo-an hermitage on Mt. Kugami. He was full of love, listened to others, and associated with people regardless of rank, age and gender. He saw the flooding of the Shinano River many times, felt sad to see people suffering and wrote poems. Many anecdotes that show Ryokan's pleasant personality are still handed down today. You can trace his footsteps in various places including the poem-engraved stone monuments.
Click here for more information.
Buntai Suzuki (1796-1870) was recognized by Ryokan for his talent. There was an age difference of 38 years between them, but they deepened their friendship by directly meeting and exchanging letters. Buntai later founded a private school called Chozen-kan which produced over 1,000 graduates in 80 years before it closed. Chozen-kan means to extend the good points. It educated students to save people in need, teaching them to immediately practice what learned. Graduates worked hard at flood control, expanded medical care and contributed to modernization.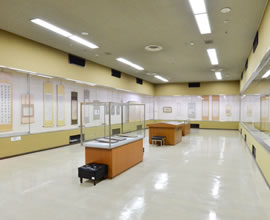 Ryokan History Museum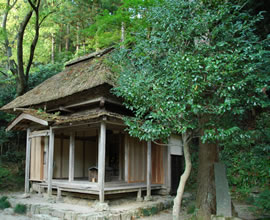 Gogo-an hermitage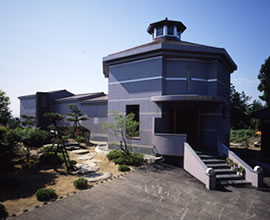 Chozen-kan History Museum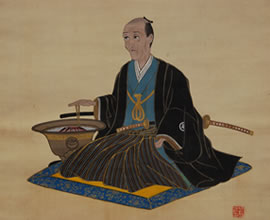 Buntai Suzuki's hanging scroll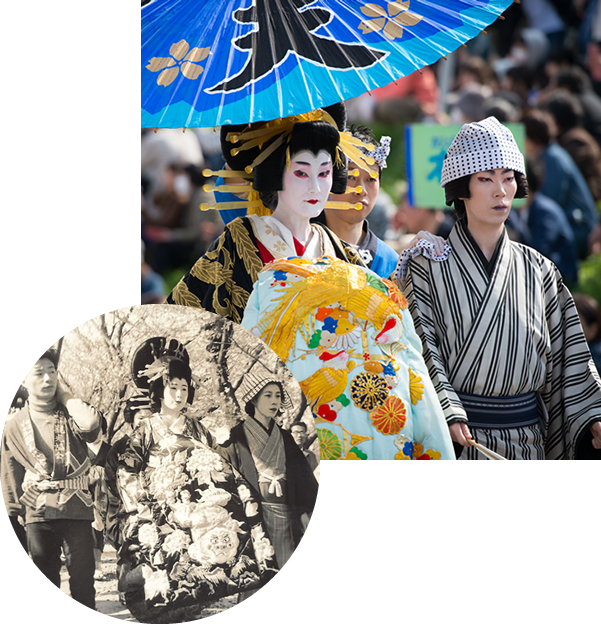 Events
Two major events are held in Tsubame City: the Bunsui Kimono Parade at the Tsubame Cherry Blossom Festival in spring and the Shuten Doji Parade of Echigo's Mt. Kugami in fall.
The Bunsui Kimono Parade at the Tsubame Cherry Blossom Festival
The cherry tree lane at the Okozu Flood-Control Channel originated with the cherry trees that the residents planted on the banks from around 1910, praying for the completion of the channel construction, a great undertaking of the 20th century. The origin of the Bunsui Kimono Parade is said to have been a costume parade that local volunteers started for the cherry-blossom viewers around 1924. As vacationers increased, they started to parade in a more lively fashion from around 1936. Currently, three girls wearing gorgeous kimonos play the roles of Shinano, Sakura and Bunsui and display the unique walking style of pointing the toes outward on three-teeth black wooden sandals that are 15 centimeters high. A total of about 60 attendants that follow serve as a foil to them, making the girls look more glamorous. The girls in kimonos parade under the cherry trees like a dream picture scroll.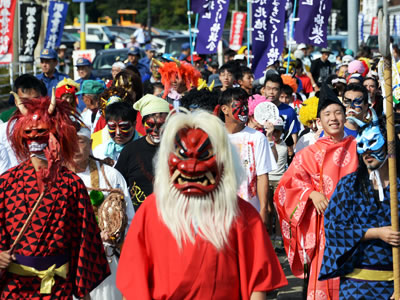 The Shuten Doji Parade of Echigo's Mt. Kugami
Gedo-maru was a handsome young man born in the Heian period in Sunagotsuka, Tsubame City. When he was practicing asceticism at Kokujo-ji Temple, ignoring love letters from many girls and women, a tragedy happened and he suddenly appeared to be a demon. After that, he was called Shuten Doji, the strongest demon, and was killed on Mt. Ohe in Kyoto. Another view considers the demon not as atrocious, but as a righteous hero or skilled master craftman. Tsubame City built Shuten Doji Shrine at the foot of Mt. Kugami to worship Shuten Doji as a deity that forms a connection between people and fulfills wishes. Shuten Doji, the strongest demon, enshrined in the shrine, appears in the Shuten Doji Parade annually, accompanied by three demons in red, blue and yellow and offers prayers with his mighty power to help people realize their earnest wishes. Participants and visitors wear demon masks and pray for the fulfillment of people's wishes as they walk in the parade and enjoy the event.
Gourmet
Pork broth ramen
Tsubame's pork broth ramen is fit to deliver to factory workers because the noodles are thick, filling and seasoned with salty flavor perfect for people performing physical labor and sweating. This pork broth ramen that was created with the development of the industry in Tsubame City has garnered attention from all over Japan. Because the soup is covered with pork broth, the ramen is hard to cool and tastes mild.
Gourmet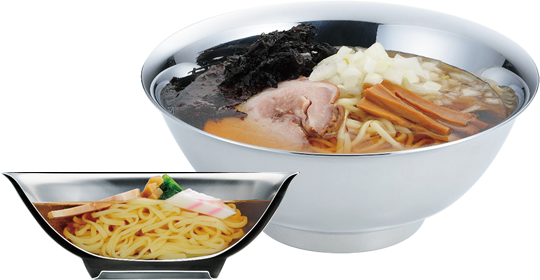 Metal bowl
A metal bowl created after getting an idea from a beer mug keeps soup inside warm, and the bowl itself is not too hot to touch. It is also durable and hard to break. This is a masterpiece of skilled Tsubame craftspeople who invested all the skill of stainless steel processing.